"Simply put, they are remarkable - they listen to, adapt programs to, and support customers in many ways."
Jessica Gradhandt, Owner, Certified Pilates Instructor & Restore Your Core® Teacher
Jessica discovered Pilates in 2000 while exploring methods to support her hyper-mobile body in movement and activities like cycling and hiking. She was immediately drawn to the work, and went on to complete an intensive Pilates instructor training with Nora St. John at Turning Point Studio in 2003, a program that later laid the foundation for the Balanced Body Education program.

The majority of Jessica's work and continuing study has been in therapeutic and post-rehab work, often working alongside physical therapists and movement therapists to support clients in their journey to strength and well-being. She especially enjoys working with specific populations such as those with hyper-mobility issues, spine/pelvis/hip issues (injury or post-surgery), prenatal/post-partum and osteoporosis. In 2009, she became a Master Instructor for Balanced Body Education LLC, offering instructor training and guidance to aspiring Pilates instructors in the Mat, Reformer and Apparatus work of the Pilates method. And most recently, she earned her certificate as a Restore Your Core® Teacher, offering a comprehensive exercise programs for women who have core and pelvic floor dysfunction.

When not in the studio, Jessica loves to be outside with her husband and two kids hiking, backpacking, swimming, cycling, skiing, traveling, and just being. She holds a B.A. in International Management from Hamline University in St. Paul, MN and is the owner of Pilates at Thrive, LLC.
Angela Gibson, Certified Pilates Instructor
Angela is originally from Canby, Oregon and received her Pilates certification through Stott Pilates in 2008. She began her Pilates training as a teen under Melanie Byford-Young of Pacific Northwest Pilates as a way to augment her studies as a young ballet student. Over time, however, she developed her love of teaching. In addition to teaching clients at Thrive, Angela is now in her sixth season performing as Principal dancer with Ballet Idaho. Coming from a professional dance background, and having undergone many injuries along the way, Angela has a highly attuned knowledge of body mechanics and strives to help clients of all activity levels, from post-rehab to elite athlete. Angela earned her Bachelors of Fine Arts from Texas Christian University in 2007 and moved to Boise in 2008 where she met her husband. They enjoy being active, traveling and partaking in The Arts as well as sporting events together!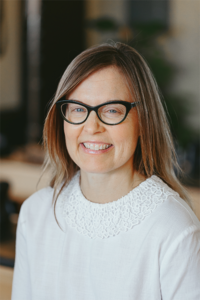 Harriett Jastremsky, Certified Pilates Instructor
Harriett, a Boise native, was trained to teach The Conditioning and Corrective Exercises of Joseph H. and Clara Pilates in Mary Bowen's studio in Northampton, MA. Mary Bowen is one of the three remaining teachers who worked with Mr. Pilates. Harriett's anatomical training was overseen by Kate Faulkner, P.T. Harriett taught in and co-managed Mary's studio from 1997-2001. She studied and earned additional certifications from The Physicalmind Institute and most recently from Balanced Body Education. She studied Anatomy and Physiology with Judy Cotter, Holyoke Community College, MA., and Anatomy and Kinesiology with Irene Dowd, New York City, and takes Continuing Education courses regularly. In New York, Harriett had a private practice in Manhattan and continued studying, most notably with Clarice Marshall from 2001-2005. In Boise, she taught at Forte Pilates 2008-2011 and joined Thrive Pilates in 2011. She graduated from the advanced level Heritage Training with Cara Reeser in June 2016. Harriett received her Bachelor of Arts from Wesleyan University. She has worked as a dancer and choreographer in Massachusetts and New York. She was dance company member with Paula Josa-Jones/Performance Works, founding member of Kinodance Company, and was involved in year-long performance projects with Defacto Dance and Peggy Florin. For her performance projects, Harriett has received funding from the Northampton Arts Council, the Massachusetts Cultural Council, and the Idaho Commission on the Arts. She is a consulting teacher for Balance Dance Company, Boise. In working with people in Pilates, Harriett likes to draw on each person's sophisticated understanding of his or her body plus the tools of Pilates to create a movement experience that feels great. She helps problem-solve with each client in order to find balanced-alignment, strength, and flexibility so that each person can do comfortably the activities and sports they love to do.
Denise McLaughlin, Certified Pilates Instructor
Denise took an interest to Pilates in 2012 and quickly gained appreciation for the overall whole body benefits that Pilates provides. Seeing significant modifications and improvements in her own body she began her Pilates Instructor training through Balanced Body Education. Denise completed her Balanced Body Comprehensive Pilates certification in 2017. Denise has had an active lifestyle her entire life. She brings her joy of fitness and the outdoors to the studio. She enjoys working with her clients to help them attain their goals, whether that be overcoming an injury, improving overall strength and fitness, or working to improve performance for a specific sport. When Denise is not in the studio, you can find her out hiking, mountain biking or skiing. During ski season Denise works part time as a Pro Ski Patroller at Bogus Basin. She also serves on the Board for the Bogus Basin Ski Patrol.
Erin Scuglia, Certified Pilates Instructor
Erin was introduced to Pilates in the 1990s after a car accident. She found that Pilates was much more effective than traditional medicine for rehabilitating her injuries. It was this that kindled her interest in becoming a Pilates teacher herself. A few years later, Erin, her husband, and two daughters, moved to Paris, France where her mother, Martine Curtis-Oakes had opened the largest Pilates teacher training center in Europe. In 2008 she received two internationally-recognized certifications, one from Balanced Body and one from A-Lyne Centre de Formation in Paris. Because her introduction to Pilates was by way of an accident, Erin gets satisfaction working with clients to rehabilitate their injuries. She has extensive experience with Parkinson's disease, spinal and disc injuries, pre and post natal and surgery rehabilitation. Being an avid bicyclist and runner, she also enjoys working with clients with an athletic bent. Erin continues to develop her rehabilitation skills, her knowledge of anatomy, and other modalities that complement her Pilates teaching.
Laurie Nowierski, Pilates Studio Manager, Certified Pilates and Body Barre Instructor
Laurie graduated from Scripps College in 1991 with a Bachelor of Arts degree in Psychology. After years of intermittent lower back and abdominal pain, Laurie began practicing Pilates in 2011 as a way to strengthen her core. Pilates has provided relief from these issues and enables her to continue her love of tennis. She completed her instructor certification with Balanced Body Barre in June 2017 and Balanced Body Pilates in October 2020. Laurie is also currently employed by a local human resources organization. A Boise native, she enjoys spending time with her family, traveling, reading and designing jewelry. She is excited to be a part of the Thrive community.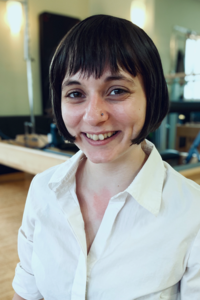 Meaghan Novoa, Certified Pilates Instructor
Meaghan Novoa is a native of Atlanta, GA. She began doing Pilates as a young dancer and immediately fell in love with how great it made her feel. In April 2016, she completed her 500 hour comprehensive Pilates certification with Lolita's Legacy, founded by Lolita San Miguel, first generation Pilates instructor. Meaghan enjoys teaching Pilates to people from all walks of life and is passionate about helping others find a home within their own bodies. She has taught at multiple studios throughout Atlanta, GA and Portland, OR. She is happy to now be living in Boise with her partner Cameron. When she is not dancing or teaching Pilates, Meaghan enjoys practicing single point Trapeze, reading biographies, and cooking vegan cuisine.
Abby Haydin, Front Desk Receptionist and Certified Pilates Instructor
Abby recently moved to Boise from her home state of Wisconsin. She graduated from the University of Wisconsin-Madison in 2021 with a Bachelor of Science degree in Wildlife Ecology and an additional major in Environmental Studies. Abby also received a certificate in Pilates through the UW-Madison Dance Department upon graduation. She enjoys practicing Pilates regularly as a means of staying centered and exploring complex body patterns. When she is not at Thrive, Abby enjoys birdwatching, studying plant identification, camping, knitting and reading.
Amy Johnson, Certified Pilates Instructor
Amy recently moved to Boise from living in Anchorage, Alaska for nine years. She has been practicing Pilates since 2011 and instructing since 2018. Amy is a VASIE certified Pilates Instructor and studied under Paul VanAlstine and Ana Kokaurova at Studio One Pilates in Anchorage. She herself came to Pilates as a way to relieve chronic pain from Spondylolisthesis and several herniated discs. "Not only has Pilates kept me out of surgery, it also has completely changed my body and improved my endurance with techniques to be more efficient with daily movements and exercise." Amy's experience includes teaching Mat, Reformer and Barre on all levels. She strives to help each client feel stronger and more balanced so that they can do what they love and stay pain free. Amy has also been a working artist since 2007. She has traveled for her art practice throughout the US, Mexico, Finland and Japan. While at home she mountain bikes, hikes, swims, cross-country skis and gardens until it is dark.